Dani Arlington shares her experience understudying the part of 'Tessa' in Prima Facie both in the West End and on Broadway
An understudy is an actor cast in a production to stand in for another actor if they are unable to attend a performance or to take over a role if a performer is unable to continue. It can be an amazing opportunity to practice your craft, work on excellent material with other talented actors and build relationships with fantastic writers, producers and directors.
My personal experience of understudying Jodie Comer in Suzie Miller's one-woman play Prima Facie turned out to be the proudest achievement of my career so far – but I'm acutely aware this isn't the case for most actors in understudy roles.
The role of Tessa was unique for a number of reasons. Prima Facie is a one-woman show, so it was an enormous role to cover. While a huge majority of understudies never actually get to perform in front of an audience during their run, I was guaranteed at least one public performance both in the West End and on Broadway.
What's more, I was very unsure of what to expect for my first understudy role and I was naturally quite apprehensive about the process. I'd heard a few horror stories of understudies being given a video of the show and the actor they were covering and told to 'just do it like that' – fortunately that wasn't my experience.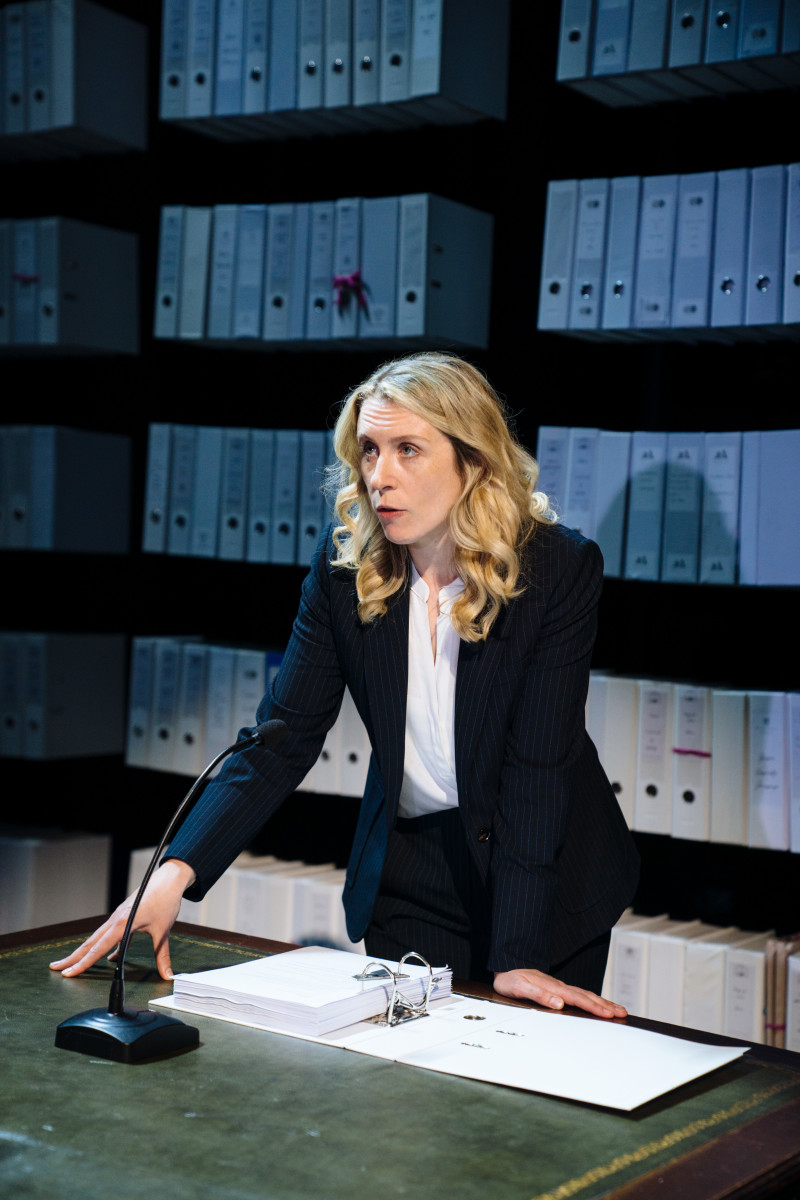 Dani Arlington in 'Prima Facie'. Image credit: Helen Murray
Preparing for the Part
Like every acting job, preparation is vital; even more so when you are understudying. I spent three months learning the lines before rehearsals started, not least because a 100-minute, one-woman play had more lines than I'd ever learned in my life.
To ease the overwhelming task, I would break it down into smaller sections, write it out, record it and take myself for a long walk while repeating the words aloud. Learning whilst moving my body is the only way for me. There were lots of amendments once we got into the rehearsal room, so making sure I was on top of the script was crucial.
Make the Role Your Own
It's important to make the role your own, too. Yes, you are doing the same blocking and you need to pay really close attention to the technical elements of the production but connecting to the role in your own way is paramount.
Understudying isn't imitating the actor you are covering. It's playing the part the way you would if you were given the same direction and respecting the work of the whole team. I was lucky enough to have lots of rehearsals before the show opened, but I know this isn't always the way.
In the rehearsal room observing, I would take down every note our director gave and use it to shape my own performance.
Make Time for Self-care
Mental and physical self-care is a must for every acting role. Having a physical and vocal warm-up that works for you is really helpful. It's easy to feel a lack of control being an understudy and constantly living in fight or flight mode is exhausting, so having a solid preparation routine is incredibly useful.
Lots of yoga and a few episodes of Blue Planet to keep my anxiety levels low always work for me.
Performing at Short Notice
All that said, no matter how much preparation you do, nothing can really prepare you for that moment when you are asked to perform at very little notice. This happened to me whilst on Broadway due to – of all things – a Canadian wildfire causing New York City to be filled with extremely high levels of smoke.
The show started and, as usual, I went up to my dressing room. Three minutes later, everything went very quiet and, shortly after that, I was asked to get ready to go on. Everything gets a little bit blurry after that, but I remember the whole team giving me so much support and encouragement.
Once the show began, I knew this was a sink-or-swim moment; all I could do was trust the work I had done and just give it everything I had.
Not only did I get that chance to go on stage, but I was also lucky to be given a sold-out public performance, which was publicised by Empire Street Productions as a 'special' addition to the schedule with discounted tickets and all funds raised going to support The Schools Consent Project.
Often, this type of understudy performance isn't advertised, and actors are only allowed to invite a limited amount of people, playing to nearly empty houses. I would love to see more producers promoting and celebrating understudy performances – together with the hard work of the whole team backstage.
In my experience, feeling that support and love was transformational for my confidence on stage and my wellbeing offstage.
Being a Valued Part of the Cast and Crew
Our phenomenal producer, James Bierman, made sure that every single person working on our show felt valued, supported and respected in their roles.
A small but special example of this was that our billboard outside of the theatre had every single member of the team's name on it; some people had worked in the theatre for 30 years and had never seen their names on any production poster.
I think this level of care and respect is essential in any theatre production, creating strong and supportive teams and healthy working environments.
The Lessons I Learnt
Understudying isn't for everyone. It can be stressful and lonely, and you will spend a lot of time waiting around. I learnt that being proactive is essential.
The majority of the time you'll be required to work alone: running lines, practising costume changes, getting familiar with props, etc. You can't wait around for anyone to help you learn those lines or do some research. You have to take responsibility for yourself.
I had an amazing experience being an understudy and I hope more understudies feel celebrated, supported and valued in their roles going forward.
A huge thank you from all of us at Spotlight to Dani for sharing her understudying experience. Read more about what it means to be an understudy and if it's a role that's right for you.
Dani Arlington trained at Mountview Academy of Theatre Arts, London and The HB Studio, New York. Her theatre credits include 'Prima Facie' (West End & Broadway), 'Inspire' (Hampstead Theatre), 'The Thing About Touch' (National Theatre Studio), 'Tiny Beautiful Things' (Trish Wadley Productions, 'The Savage' (Live Theatre), 'Tinder Surprise' (Arcola Theatre), 'HER' (The Arts Theatre and The Space), 'The Flowers of O'Edinburgh' (The Finborough), 'Studs' and 'A Pair of Beauties' by Gordon Steel (Hull Truck Theatre National tour), 'Be My Baby' (Gala Theatre), 'Third Floor and The Comedy of Errors' (The Cockpit), 'The Women' (Jackson's Lane). Dani recently finished filming a returning role for CBBC's 'The Dumping Ground'. Other TV and commercial work include 'Anna Marsh' in 'Doctors' (BBC), 'Mum' in Morrison's Christmas Ad, and 'Model' in Scholl Campaign. Dani is also passionate about pursuing a career in directing. Her credits include Assistant Director on 'Darling at The Hope Theatre' (Standing Ovation Award), 'The Fulstow Boys' by Gordon Steel, and 'The Speaker' at Live Theatre, Newcastle.
Headshot credit: YellowBelly Photo
Image credit: Kim Wilson / Shutterstock