Sarah Barlin, who has just moved to London, gives her top tips for any actors who've just arrived in the UK…
My mum always tells me to keep my cup full. Acting can be hard because it is paved with rejection. It helps to know how to keep yourself healthy and happy. Sleep, drink water, eat lots of veggies, and exercise. Have some fun when you can and keep your friends and family as close as possible (especially if home is far away).
So, you have made the bold decision and have moved to the Big Smoke. Congratulations! London is the home of all of the arts (don't tell Paris) and you have most definitely made the right choice.
It's hard to be an actor here. However, if you have passion and grit, you can make it. Here are some things I have learned so far:
1. Get on Spotlight
This is one of the most important tools for an actor in London. Spotlight connects you with loads of people worth knowing and provides lots of helpful information. I especially love podcasts, so I make sure to listen to each new Spotlight Podcast episode on my morning run.
2. Work on your accent
If you aren't a native English speaker, or if you have a funny accent (like me), brushing up on your Received Pronunciation is essential. I tried out RP lessons at the Actors' Temple last weekend, and had an engaging time with an hour of technical practice and then another hour of scene study. Here's a link to their website. Of course, you could also binge the Harry Potter films again while you iron. "It's Levi-O-sa, Ron, not Leviosa."
3. Get an agent
Obtaining an agent is challenging, but not impossible. Make sure that your showreel is up to date, and that you have a brilliant set of headshots. For some advice on your headshots, check this and this out.
Do your research and see what kind of artist each agency represents, and where you fit in. Decide what kind of work you want to get and see who represents artists already working in those areas. Then get your email on. If you are part of any kind of show at all, don't be afraid to contact agents and invite them to come and see you. Find a comprehensive list of reputable agencies here.
4. Collaborate and connect
Networking is everything, and when you move to a big city it can easily feel very overwhelming. Get in touch with as many people as you can by volunteering your acting skills for independent shorts and student films. Joining a local community theatre is a brilliant way to meet people near you and if you are lucky, you could get to play a bigger role than you would in a professional setting (hello, Hamlet).
Another way to connect is to join an acting class! This is a double whammy as you can brush up your acting skills while making connections. Try these for short courses:
I have found social media really useful, especially for meeting people with similar interests. There are many groups on Facebook for actors in London, and if you follow casting directors on Instagram and Twitter, they often post open casting calls. For a list of notable casting directors in London, go here.
5. Find a flexible job
London is expensive and nobody wants to be a starving artist. Finding a job can be super tricky, but it isn't impossible. I have done some crazy jobs since arriving, from working at an adult ball pit to running reception at a huge banking firm.
Temp work is lucrative, but you have to be prepared to always be ready to go.
Waitressing or working at a bar are famously flexible but can involve late nights – so decide what works for you.
You could also become a Pilates instructor or personal trainer and run your own business in order to pay the bills. This way, you can keep healthy and fit, and be in control of your time. This can be a bit of a challenge, but luckily actors are tough!
Teaching drama is a fun way to learn improvisation skills and be fascinated by the wacky imagination of children. If you are brave and adventurous, you could always be a mystery shopper, or promote dip at your local Sainsbury's.
I love the versatility of doing odd jobs, as it allows me to watch people (not creepy if you are an actor) and glean other skills that may help me when building a character. If anything gets me down I always remind myself that Olivia Colman was a cleaner, and that anything is possible when you have determination.
6. Make an epic showreel
If you don't have one already, a showreel is the best way to showcase your skills. Once you have some film work from student and short films, compile an excellent reel by cutting together all the scenes that display your particular style and talent. For some great tips on this process have a listen to this.
7. Watch out for scammers
Not everyone in London is helpful, and some people just want your money. If a platform promises to make you famous for a small fee, do some research first. Make sure anything you spend your hard earned cash on is reputable. If you are in doubt, ask!
8. Sit on the couch
Yes, I mean it. One of the many great things about acting is that watching TV counts as research. Keep up with who is who and what is being made, without using all of your money. Watch great new British shows like The Durrells or Killing Eve, as well as classics like Peep Show.
For a theatre injection, try out The National Theatre as they sell limited day tickets from 9.30 am every day (if you are prepared to stand in a queue). Remember to pack sandwiches! Alternatively, you can catch a Shakespeare at the Globe with a £5 standing ticket.
9. Go off West End
Some great theatre venues to know about in London include The Old Red Lion and the White Bear Theatre.
Go and watch a show and see what kind of work other actors are involved in. If you already have a brilliant project that you want to showcase, get in touch with these spaces and perform on their stages. Then you can invite potential agents and casting directors to come and see you in action. The National Theatre and the RSC both welcome these kinds of invitations, as do most casting directors (as long as you remember to send a polite and well-constructed email).
10. Look after yourself
My mum always tells me to keep my cup full. Acting can be hard because it is paved with rejection. It helps to know how to keep yourself healthy and happy. Sleep, drink water, eat lots of veggies, and exercise. Have some fun when you can and keep your friends and family as close as possible (especially if home is far away).
Personally, I like to listen to Sam Jones' lovely podcast, Off Camera, for inspiration. He interviews many great artists that have found success through a cocktail of coincidence and hard work.
I also try to keep myself balanced and remember that acting is a job (however mad it might be) and therefore, I am allowed to chill my guava from time to time without all the Artist Guilt. I live in London now – and that in itself is simply wonderful.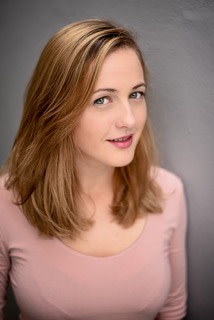 Sarah Barlin is a South African actress and writer who lives in London. She has loads of experience from working as a casting assistant and has appeared in many commercials and series in Johannesburg. She is now tackling London head on. Her small pleasures are watching old films, drinking coffee and speaking for hours about Meisner.
Image Credit: Robyn Davie