Work permits, contracts and travel advice for performers preparing to work on stage in Hamburg, Germany
As a British stage and screen actor, my work has taken me to many exciting places around the world. Earlier this year I was given the opportunity to travel to Germany for the first time to perform as the lead role in a play called The Who and the What by Ayad Akhtar at the English Theatre of Hamburg.
As a creative in a post-Brexit world, I was anxious about how everything would work out and what I needed to prepare. To help others who may find themselves in a similar position, here are four key factors to consider when going to work in Germany:
Read the contract thoroughly
After I successfully auditioned for the role of Zarina via self-tape, the English Theatre of Hamburg sent over a contract detailing all the information about the production. I read through the contract at length and highlighted any issues or concerns I had before bringing them to my agent who negotiated on my behalf.
Most details pertaining to travel, fees, and accommodation are within the subsections of the contract. If you're stuck or unsure about how to bring up questions, ask someone else you trust to read the contract and help draft an email to the theatre. In most cases, you'll find anything that seems concerning can be solved and worked through on both sides.
NB: It's important not to sign anything you're unsure about.
Read more about understanding contracts here.
Get the correct work visa
Most of the EU allows UK citizens to work and travel for up to 90 days on an A1 certificate. The application is free and took around two weeks to arrive before my start date. The A1 certificate is important, so I'd advise you to complete the application as soon as you sign onto the project.
The English Theatre of Hamburg has been working with actors from the UK for many years, so they were quite clear and concise about what paperwork I'd need to travel and work in Germany. The theatre was very helpful in explaining what to prepare, but it was equally important for me to read up on what I needed for myself. All information about visas and work permits for the EU is listed on the gov.uk website.
Ensure travel and accommodation are included in the fee
For productions that require hiring actors from overseas, it's standard for the fee to include travel and accommodation. One of the appeals about signing on to work in Germany was that I'd be taken care of as an actor hired from the UK. The English Theatre of Hamburg covered return flights from London Heathrow and provided an apartment for the duration of my stay – plus a monthly travel card to get around Germany for the next three months. It's important to be clear about these things before signing on.
My agent was able to go through what was reasonable and advised me that theatres in Germany generally take great care of their actors. If you're unsure or concerned, don't be afraid to ask the theatre or your agency for more clarity.
Enjoy your rest days
I'd never been to Germany before, so part of the appeal about working on this play was doing so in a new country. Once rehearsals finished and the show was up and running, I was keen to take advantage of the time off. One of the great privileges of acting is being able to travel and meet new people. Being away from home for long periods of time is tough, and sometimes, doing the same show eight times a week can get stagnant. Rest days allowed me to step away from the work and recharge. I became the unofficial social chair of our cast activities. When we spent a day out or travelled to Berlin for a weekend, we came back to work with a fresh perspective and a new excitement to do the play.
One of the most important things I learned while working in Germany was how transcendent theatre is. There are customs steeped in traditions that everyone seems to know as if it's a universal language. The German stage differs in so many ways to the UK – audiences applaud after every performance with the intention for the cast to continue to bow as a sign of appreciation.
For most audiences, English is not their first language, so there were often parts where our director gave us notes to slow down the text and not to expect responses to certain humorous moments. We also had earlier performances that were dedicated to younger audiences – most of whom were learning about theatre in school.
It was a privilege to perform as a British actor in an American play on a German stage. A privilege I hope that many of you get the chance to do. Hamburg is a great city; there's so much to do and see, so if you get the chance to work there or in any part of Germany, I strongly advise you to say yes.
Read more advice and tips for working as a performer in Europe.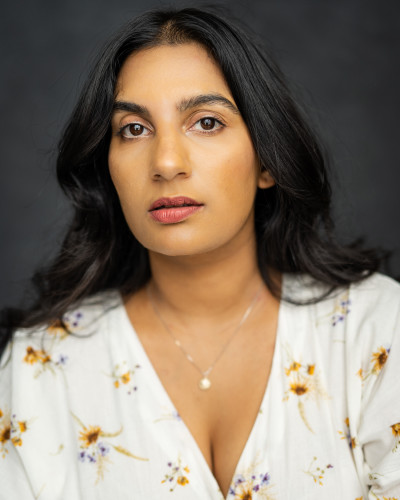 Karen Johal can currently be seen in 'Phoenix Rise' on BBC iPlayer and in season three of 'Ted Lasso' on Apple TV+. Karen has worked extensively in theatre, film and television in both the UK, Europe and the U.S. including shows off-Broadway including 'Julius Caesar' at The Public, 'Journey to America' at Carnegie Hall and 'CAMEL' written by Charly Clive. She's also performed at The Birmingham Repertory Theatre in 'Blackbird', 'People, Places and Things' and 'Mismatch'. Karen Johal is represented by Shack Artists.
Image credit: Stefan Kock / 'The Who and The What' at the English Theatre of Hamburg
Headshot credit: YellowBellyPhoto